April 18, 2019
If you made the meeting Tuesday night, thanks very much for coming.  The Las Colinas Country Club was a nice place to have a meeting.  Thank you David Valaer for setting it up for us. I also want to thank 6 wives for coming to our meeting.
Below are the Meeting Minutes.  Please let me know if you have any questions about what we talked about.
Please fill out the "Pilot Profile Sheet" Sheet below for the Chapter Records!!  And send back to tom@iac24.org
Also,  please pay your club dues, if you have not already.  This can easily be done easily via this website.
Thanks to Tony Wood and Curt Richmond for the work they are doing on our contest and Julia Wood for a great website.
Remember, the IAC BOD will be here in Dallas at the Double Tree Hotel on Mockingbird April 30-May1.  We are all invited to attend the meeting. The Board is planning dinner at Ojedas on Maple at 7pm on April 30.  We are also invited to the dinner.  Let me know if you plan to attend and I will add you to the list.
I announced at the meeting that I am running for the IAC Board of Directors in July.  I am running because I want our Chapter to have a voice on the Board. I heard from Doug Sowder, the nominations coordinator, and he told me that there are 7 members running for the 4 spots available.  I feel like three of the nominations are from incumbents.  Bruce Ballew is one of the incumbents and I spoke to Bruce and he plans to run again.  Bruce does a great job and needs our vote.
Finally, a friend can set up a tour for us of the F-35 assembly plant at Lockheed Martin.  Please let me know if you would like to do this and I will set it up with him.
Again, thanks for your input at our meeting.  Let me know by answering this email if you are a yes for Ojedas and/or you are a yes to tour Lockheed Martin.
IAC Chapter 24.  Lone Star Aerobatic Club.  Meeting Minutes.  4/16/2019
Opening
The regular meeting of the Lone Star Aerobatic Club, IAC Chapter 24 was called to order at 1900 on 4/16/2019 by President Tom Rhodes.
Minutes from the last meeting on December 1, 2018 – Included in booklet.
Each Member introduced himself at the meeting. We have some great new members to add to our group:  Bo Kalabus, John Hale and Rene Dugas
Members Present 22!
Suzy & Tom Rhodes, Maggie & Curt Richmond, Jill & Tim Carter, Rene Dugas, John Hale, Patrick Clark, Julia & Tony Wood, Mark Wagoner, J.J. Humphreys, Bo Kalabus, Donna & Jay Hanson, Thomas Fitch, Bill Denton, Linda & Bud Judy and Dave Valaer
By-Laws Summary:
We are a 501(c)(7) Social Club. Voting members are in good standing with EAA, IAC and pay their annual dues.  The Board of Directors shall be elected by the voting members for a period of 4 years. The BOD will consist of 5-9 members and meet at least once a year. The club officers will be elected by the BOD.
List of Contests– Tom talked about the list of contests to be held for the remainder of the year.  They were listed in the booklet.
Tour of the F-35 Assembly Plant at Lockheed Martin – The chapter has an opportunity to tour the Assembly Plant at Lockheed Martin. Tom asked for a show of hands to see if there was in interest of a tour.  Twelve members would like to attend this tour.
Lone Star Contest– Tony Woods reported on the contest to be held in Breckinridge in May. He talked about the hotel accommodations, meals planned for the event, hangar storage for the planes, the new trailer the club has purchased for our contests as well as a laser printer and where we would be flying. Tony hoped this contest would get us back to the fun of flying.  Curt Richmond showed the first-place belt buckles medals and the glass trophies for 2ndand 3rdplace for our contest.
Fly Days– Tom Rhodes announced the chapter would like to have Fly Days on the first Saturday of each month.  These events would be held at Akroville.
Air Shows– The following Air Shows will be:  The Bonham Festival of Flight; Paris, TX Airshow? and The Sky is the Limit – Gainesville, TX.
Rusty Pilot Seminar – AOPA– BrochurePresident Tom Rhodes passed out the brochures and said it is a good resource guide.  It talks about Currency-3 landings and takeoffs in last 90 days, Maintenance Part 43 Appendix A, Subpart C – a list of authorized preventive maintenance work that an owner may perform, VFR flight following – "Traffic in sight" and/or "Negative contact", how to prepare for areas that you plan to over and formation flying.  You must discuss the flight before you are departing. Don't hesitate to make an emergency call if you need.
EAA Chapter Leadership Seminars:
We have several events for leadership.  Kate Kyer is the contact for Young Eagles – ages up to 18.
Eagle Flight – age 18+.  Tom mentions there is a $10,000 scholarship for people to fly from the Ray Foundation Scholarship.  There is a sheet in the booklet about this.  Thomas Fitch is one of our members who might be applying.
Formation Flying – David Valaer gave a very informative power point discussion on formation flying.
President Tom Rhodes announced the IAC BOD would be in Dallas on April 30-May 1stat the Double Tree Inn on Mockingbird. There will be a dinner at Ojedas that you can attend.
Tom said he is running for the IAC Board of Directors.  He would like to see our Chapter have a representative on the Board. He would appreciate the chapter's support.
Tom thanked David Valaer for making the reservations at the Las Colinas Country Club for tonight's meeting. Please don't hesitate to give Tom any ideas of how to make Chapter 24 better.
Meeting was adjourned at 20:38.
Submitted by Suzy Rhodes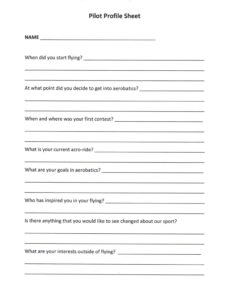 Pilotprofile